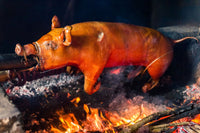 Introducing the Grand Feast: 100lb Suckling Pig!
Get ready for a culinary extravaganza with our 100lb sucking pig, a true showstopper for your special event. This magnificent piglet, sourced with utmost care, boasts tender and succulent meat that will leave your taste buds dancing with delight.
🐖 Unparalleled Flavor: The delicate and juicy meat of our suckling pig is a testament to its young age and optimal tenderness. Each bite is a symphony of flavors, perfectly balanced and infused with rich natural sweetness.
🔥 Culinary Masterpiece: Roasting our 100lb sucking pig creates an unforgettable visual spectacle and an aromatic experience that will captivate your guests. The crackling skin, golden and crisp, encases the melt-in-your-mouth meat, creating a harmonious contrast of textures.
🍴 Feast for Many: This impressive centerpiece can comfortably serve a large gathering, allowing you to share the joy of indulging in this gastronomic masterpiece with your loved ones. It's a perfect choice for celebrations, weddings, and other special occasions.
💫 Unleash Your Creativity: Our 100lb sucking pig serves as a blank canvas for your culinary creativity. Enhance its natural flavors with aromatic herbs, marinades, and seasonings of your choice. Let your imagination run wild and create a personalized masterpiece that will leave a lasting impression.
🌿 Ethical Sourcing: We take pride in sourcing our pigs from trusted farms that prioritize animal welfare and sustainable practices. Rest assured that your feast is not only a delight for your taste buds but also a responsible choice.
🍽️ Culinary Adventure Awaits: Gather your loved ones, ignite the fire, and embark on a culinary adventure like no other. Let the tantalizing aroma fill the air as you savor each bite of this succulent 100lb sucking pig, creating memories that will be cherished for years to come.
🛒 Ready to make your celebration extraordinary? Elevate your dining experience with this grand feast, and let the flavors transport you to gastronomic bliss.
#SucklingPig #Feast #CulinaryExtravaganza #FlavorfulDelights #WiserMeats #Celebration #GastronomicMasterpiece