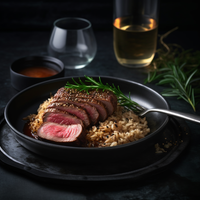 Kangaroo loin is a lean and flavorful cut of meat that comes from the back of the kangaroo. It is similar in texture and flavor to beef tenderloin but with a slightly gamey taste.
To prepare kangaroo loin, start by marinating the meat for a few hours to help tenderize it and infuse it with flavor. A simple marinade of olive oil, garlic, rosemary, and salt and pepper works well.
Next, heat a heavy skillet or grill pan over high heat and add a little bit of oil. When the pan is hot, sear the kangaroo loin on all sides until it is nicely browned.
Once the meat is seared, transfer it to a preheated oven at 400°F (200°C) and cook it for about 10-15 minutes, depending on the thickness of the loin and your desired level of doneness. A meat thermometer should read 130°F (55°C) for medium-rare or 140°F (60°C) for medium.
Let the meat rest for a few minutes before slicing it thinly against the grain. Serve the kangaroo loin with a side of roasted vegetables or a salad for a delicious and healthy meal.
Everything was Great
Every thing brought at Wiser Meats was great, the the service was excellent.
Thank You