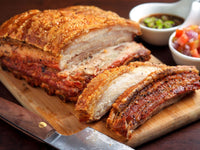 Whole Pork Belly 12lb
Pork belly, like bacon, starts out from the underside or the belly of the pig. But don't think of the word "belly" as in stomach, rather it's the flesh that runs on the underside of the pig. Pork belly is uncured, un-smoked and un-sliced bacon.
Ethically raised & pastured in Ontario
No added hormones or steroids
Pork Belly skin on
I been buying from Tim the pork belly (repeatedly) tender , excellent for barbeque, simmer pork etc. To keep in mind it comes with the whole 10 lbs or more and Tim will charge you you only for whole belly my benefit, thank you Tim!
Cons you have to pre plan and cut your own meat to customize the portion you want.