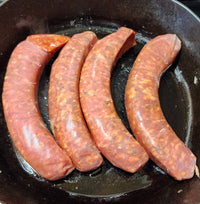 Introducing a Spicy Twist: Cheddar Jalapeno Sausages! 🌶️🧀🌭
Prepare your taste buds for a flavor-packed experience with our Cheddar Jalapeno Sausages! 🔥🧀🌶️ These sausages are an irresistible combination of creamy cheddar cheese and fiery jalapeno peppers, creating a perfect balance of heat and cheesy goodness.
🌭 Premium Ingredients: Crafted with the finest ingredients, our Cheddar Jalapeno Sausages are made with high-quality cuts of meat and infused with real cheddar cheese and diced jalapenos. Every bite bursts with flavor that will make your taste buds dance.
🔥 Spicy Sensation: These sausages will surely deliver if you crave a little heat in your meals. The jalapenos add a delightful kick that complements the richness of the cheddar cheese, creating a spicy sensation that will leave you wanting more.
🧀 Cheesy Goodness: The creamy cheddar cheese within each bite adds a luscious and indulgent element to the sausages. As you savor the flavors, the cheese melts and oozes, creating a mouthwatering experience that cheese lovers will adore.
🍽️ Versatile Delight: Whether you're firing up the grill, pan-frying, or baking, our Cheddar Jalapeno Sausages are incredibly versatile. Serve them as a standalone meal, in a bun with your favorite toppings, or add them to your favorite recipes for an extra kick of flavor.
👨‍🍳 Chef's Recommendation: For a delicious meal, grill the sausages until they are perfectly cooked and slightly charred. Serve them on a fresh bun, topped with caramelized onions, tangy barbecue sauce, and a sprinkle of fresh cilantro for a burst of freshness.
🛒 Ready to add some spice to your grill and discover the irresistible flavor of our Cheddar Jalapeno Sausages? Get ready to enjoy a fusion of cheesy goodness and fiery jalapeno heat!
#CheddarJalapenoSausages #SpicySausages #CheesyGoodness #FlavorPacked #GourmetSausages #TasteSensation #WiserMeats #IndulgeInFlavor
Ingredients: pork, water, salt, spice (spices and spice extract, dextrose, garlic powder, onion powder, smoke flavor), Prague powder (salt, sodium nitrite, glycerine, sodium bicarbonate), paprika, cheddar cheese, binder (modified cornstarch), crushed jalapenos, sodium erythorbate, ground garlic, dextrose