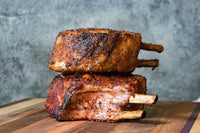 The Pork Loin Centre-Cut Chop Frenched Double Bone-In Pastured in Ontario, is a delectable and succulent cut of meat that will elevate your dining experience. This 16oz chop is sourced from pastured pigs raised in the beautiful region of Ontario, known for its commitment to ethical and sustainable farming practices.
The center-cut chop is obtained from the loin section of the pig, ensuring optimal tenderness and flavor. The double bone-in feature adds both visual appeal and enhances the overall taste of the meat. The bones help retain moisture and impart a rich depth of flavor during cooking, resulting in a juicy and incredibly satisfying eating experience.
The pastured upbringing of these pigs ensures that the meat is of the highest quality. The pigs are free to roam and forage on open pasture, leading to a well-developed and distinct taste profile. The natural diet and outdoor lifestyle contribute to the marbling and tenderness of the meat, creating a melt-in-your-mouth texture and rich, savory flavor.
Whether you choose to grill, pan-sear, or oven-roast this magnificent chop, you can expect a deliciously caramelized exterior with a perfectly juicy and tender interior. The generous 16oz portion size makes it ideal for sharing or indulging in a substantial and satisfying meal.
The Pork Loin Centre-Cut Chop Frenched Double Bone-In, Pastured in Ontario, 16oz, is a prime choice for pork enthusiasts and culinary connoisseurs alike. Its exceptional quality, ethical sourcing, and mouthwatering taste make it a standout centerpiece for any meal. Prepare to be impressed by this remarkable cut that showcases the best of Ontario's pastured pork.