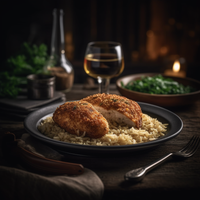 Chicken Kiev, a classic dish that originated in Ukrainian cuisine but has become popular in many other countries. Chicken Kiev typically consists of a boneless chicken breast that is pounded flat, filled with seasoned butter, rolled up, breaded, and then fried or baked until golden and crispy. Here's how I would describe it:
Chicken Breast: Chicken Kiev is traditionally made with boneless chicken breast, which is a lean and versatile cut of meat. The chicken breast is typically pounded flat to an even thickness to ensure even cooking and to create a pocket for the butter filling. The quality of the chicken breast is crucial, and as a Michelin-accredited chef, I would prioritize using high-quality, fresh chicken for the best flavor and texture.
Butter Filling: The hallmark of chicken Kiev is the seasoned butter filling that is tucked inside the chicken breast. The butter is typically mixed with minced garlic, parsley, and other herbs and seasonings, which infuses the chicken with a burst of flavor when cooked. As the chicken breast cooks, the butter melts, creating a rich and flavorful sauce that oozes out when the chicken is cut, adding a luscious and indulgent element to the dish.
Breading: Chicken Kiev is usually coated in breadcrumbs to create a crispy and golden crust. The chicken breast is typically coated with flour, dipped in beaten eggs, and then coated with breadcrumbs, which adhere to the chicken and create a crispy coating when fried or baked. The breadcrumbs can be plain or seasoned with herbs, spices, or even grated cheese to add additional flavor and texture.
Cooking Method: Chicken Kiev can be cooked using different methods, such as frying or baking. Frying in oil or butter is a traditional method that creates a crispy and golden crust while baking in the oven is a healthier alternative that still yields delicious results. Cooking times and temperatures may vary depending on the thickness of the chicken breast and the desired level of doneness.
Presentation: Chicken Kiev is typically served hot and sliced diagonally to showcase the butter filling oozing out. The crispy and golden exterior contrasts with the juicy and flavorful chicken and the melted butter inside. As a Michelin-accredited chef, I might present Chicken Kiev with elegant plating, accompanied by complementary sides such as mashed potatoes, roasted vegetables, or a fresh herb salad.
Overall, Chicken Kiev is a delicious and indulgent dish that offers a symphony of flavors and textures, with tender chicken, rich butter filling, and a crispy breadcrumb coating. Its elegant and comforting qualities make it a classic favorite among diners, and as a Michelin-accredited chef, I would strive to create a Chicken Kiev dish that is beautifully executed, full of flavor, and a true culinary delight.
Chicken Kiev
This is our favourite treat meat
Chicken Kiev
This is my favourite. So delicious. Wonderful flavour, lots of cheese, never dry.