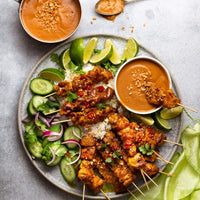 Chicken satay is a popular Southeast Asian dish consisting of small pieces of marinated chicken that are skewered, grilled, and served with a flavorful peanut dipping sauce. The dish is commonly found in Thai, Indonesian, and Malaysian cuisines.
I would describe chicken satay as having the following characteristics:
Marinated chicken: The chicken is typically marinated in a mixture of spices, herbs, and sometimes coconut milk, which imparts flavor and helps to tenderize the meat.

Skewered and grilled: The chicken is then threaded onto bamboo skewers and grilled over high heat until cooked through and slightly charred. This gives the chicken a smoky, slightly sweet flavor and crispy exterior.

Peanut dipping sauce: Chicken satay is traditionally served with a peanut dipping sauce made from ground peanuts, coconut milk, soy sauce, and spices. The sauce is rich, creamy, and slightly sweet, and it complements the chicken perfectly.
Chicken satay can be served as an appetizer or as a main dish. It is often accompanied by a side of steamed rice, cucumber slices, and a tangy salad made with shredded carrots, daikon radish, and fresh herbs such as cilantro and mint.
To prepare chicken satay, start by marinating the chicken in a mixture of spices, soy sauce, and coconut milk for several hours or overnight. Then, thread the chicken onto skewers and grill for several minutes on each side until cooked through. Serve with the peanut dipping sauce and garnish with chopped peanuts and fresh onions.

I would suggest experimenting with different marinades and spices to create your own unique version of chicken satay. For example, you could try adding lemongrass, ginger, or chili peppers to the marinade for an extra kick of flavor.