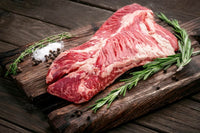 A hanger steak, also known as butcher's steak, is a cut of beef steak prized for its flavor.
"Trust me, this cut is where it's at. Marinate it overnight in olive oil with garlic and fresh herbs and then grill it hot and quick. You will never think about filet again."

Take the rich flavor of a ribeye—cross it with melt-in-your-mouth beef tenderloin and what do you get? Hanger steak, a tasty cut of beef that hangs from the diaphragm of the cow along with the plate, or lower belly. Because this muscle does very little work, it's extremely tender and packed with beef flavor.

Bold beautiful melt in your mouth
This 2.7 lbs hanger was reversed seared on my Komado Joe rubbed with a basic local beef rub slowly brought to rare and seared hard and rested to a perfect medium, served and sliced table side with the fam. A beautiful full bodied, bold beef taste, with a buttery melt in your mouth bite.
A new family fav. Grass fed, aged 40 days, delivered to my front door.. What a treat !!
Great hidden gem
If you like high quality little known cuts..this is the crown jewels.
Beefy and tender. Best at medium rare.
Get on this train.
@fat.dad.bbq